The International Journal of Science & Emerging Technologies (IJSET) is a peer reviewed online journal for professionals and researchers in the field of science and its emerging technologies. IJSET is a multi-disciplinary research platform, focuses on Agricultural Sciences, Biological Sciences, Chemical Sciences, Computer and Mathematical Sciences, Engineering, Environmental Sciences, Medicine, Statistics, Business, Economics, Bioinformatics, Biotechnology and Physics.
The main aim is to resolve emerging and outstanding problems revealed by recent social and technological change. IJSET provides the platform for the researchers to present and evaluate their work from both theoretical and technical aspects and to share their views.
The journal welcomes high quality original research papers, survey paper, review paper, tutorial, technical notes as well as the discussion papers.
To support this open access journal, we have an honorary charge of USD-50 for publication of an accepted manuscript.
------------------------------
We Invite the Reserachers and Professional for Editorial Board members in IJSET join us through Email: ijset.info@gmail.com
------------------------------
The Journal is indexed in EBSCO, Google Scholar, DOAJ, Scirus, getcited, Scribd and citeseerx.
-----------------------------
Special Issue
Special issue on "Design and Analysis of Engineering Systems using Computational Techniques"
We invite the authors to submit their research article for the special issue as per details (for more details IJSET Special Issue)
Announcements
No announcements have been published.
Vol 7, No 4 (2014): April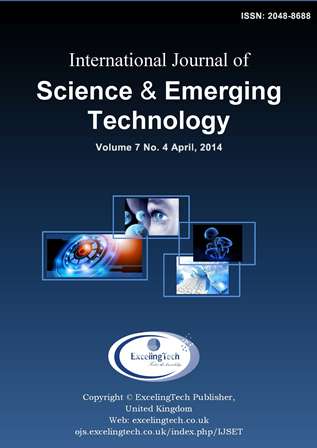 Copyright © ExcelingTech Publisher, UK